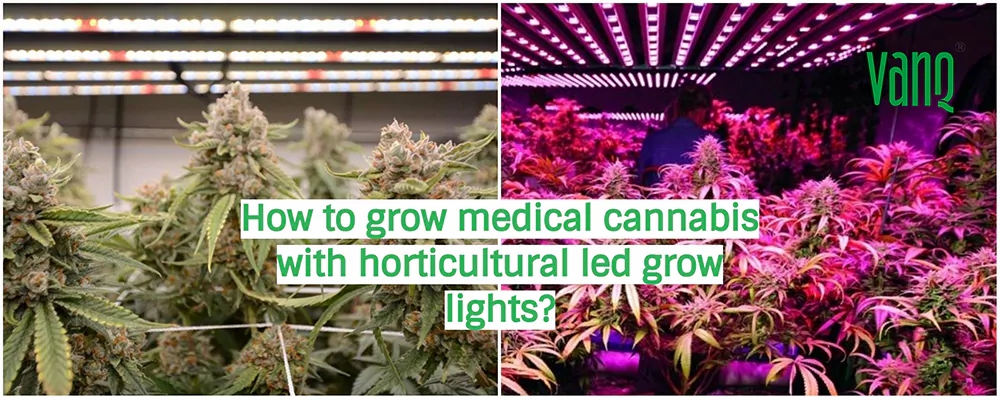 Horticulture grow lights either provide a light spectrum similar to that of the sun or a tailored spectrum that better caters to the needs of cultivated plants. The spectral outputs form horticulture grow lights with varying colors mimic outdoor conditions and offer extended control allowing a maintained light output to the plants. Depending upon the type of plants, their growth stage, and photoperiod required by the plants, the healthy growth of plants requires specific spectrum ranges, lamination efficacy, and color temperatures.
Particularly, for growers who looking forward to having exceptional crop performance, maximum profits, and custom crop traits, the horticulture grow lights offer solutions that help realize such goals.
With cutting-edge technology, LED grow lights deliver superior performance in meeting the light needs of cannabis plants. This lighting system is also hailed since it neither produces excessive heat and nor requires a cooling system to maintain an optimum temperature level.
The medical marijuana can be cultivated in different ways. Depending upon the growers' experience, environmental conditions, and required quality of the cannabis produce, medical marijuana can be cultivated using an indoor, greenhouse, and outdoor methods.
The ultimate choice of marijuana cultivation method rests upon your budget and personal preferences. However, if you choose to grow your plants indoor or using the greenhouse method, the following lines will help you to address your plants' lighting needs.
Indoor medical marijuana cultivation
Indoor medical marijuana cultivation brings several advantages to cannabis growers that range from a focus on a small number of plants, monitoring growth patterns, and nutritional needs with much ease. Following a trial-error approach, cannabis indoor growers have perfected their practice in controlled environments. They have learned ways to increase potency, perfect flavor, and improve appearance in a small space.
The on-point flavor and cannabinoid profile of indoor cannabis making it popular among weed enthusiasts who rate premium flavor and increased potency very high.
Starting indoor medical marijuana cultivation requires knowledge of certain factors such as plant density, grow light height, spectrum variations, and light intensity. Your indoor medical marijuana cultivation lighting system needs to possess certain features. These features allow medical marijuana growers to better manipulate the factors that can affect their plants' growth.
Flexible spectrum
No matter whether you are a new grower or a professional indoor grower, you require greater spectrum flexibility to elicit the desired response at different growth stages of your plant. From vegetative to harvesting, indoor medical marijuana plants need a specific spectrum suitable for their growth needs.
VANQ's modern iGrow wireless technology extends you greater flexibility and enhanced control. Using the technology, you can program the spectrum according to the distinctive needs of your plants' growth cycle.
Being an innovative LED grow light manufacturer, VANQ serves indoor cannabis growers with products such as GLIC650D 650W that extends independent spectrum control with unprecedented ease. The hassle-free control to set the desired spectrum for the entire growth cycle of medical marijuana plants offer great convenience.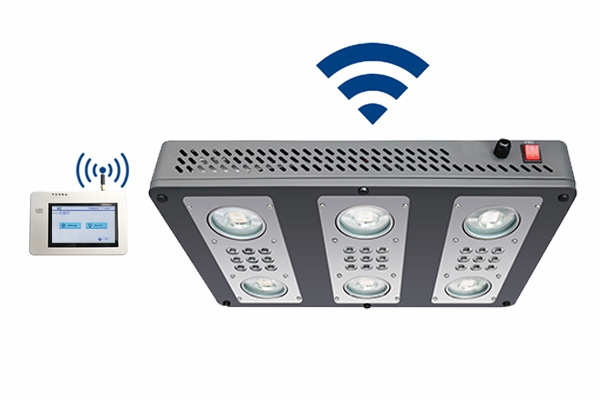 A wireless control technology allows the indoor growers to adjust four channels of spectrum within GLIC 650D a fixture at a scale of 0-100%. With exceptional ease, marijuana cultivators can manipulate red, blue, infrared, and UV+white.
Using a single controller, you can adjust 100 pcs of GLIC650D fixtures within a range of 100m(330ft) through the robust wireless communication network. The VANQ's innovative indoor lighting solutions combining information technology with lighting systems offer automatically run predesigned lighting program that sets spectrum for the entire photoperiod calendar.
Uniform PPFD
There are different PPFD requirements depending upon the growth stage of the cannabis plants. For cuttings, the recommended PPFD level is 75-150 µmol/m²/s, 100-300 µmol/m²/s for seedlings, 300-600 µmol/m²/s for the vegetative stage, and over 600 µmol/m²/s is recommended in the reproductive stage.
For effective growth, marijuana plants require spectrum variation along with uniform PPFD. Being a manufacturer of LED grow lights with an understanding of its customers' needs, VANQ serves the indoor medical marijuana market with lighting solutions that produce uniform PPFD along with the entire illumination footprint.
To illuminate a 4X4ft flowering area, go for VANQ's GLIC 650 which is a full power 650W grow light with a wide beaming angle. For larger flowering footprints such as 5X5ft, our GLMX720 720W waterproof LED grow light with a PPF of 2160μmol/s, full-spectrum, uniform spectral distribution, and high efficacy can well address the light requirements.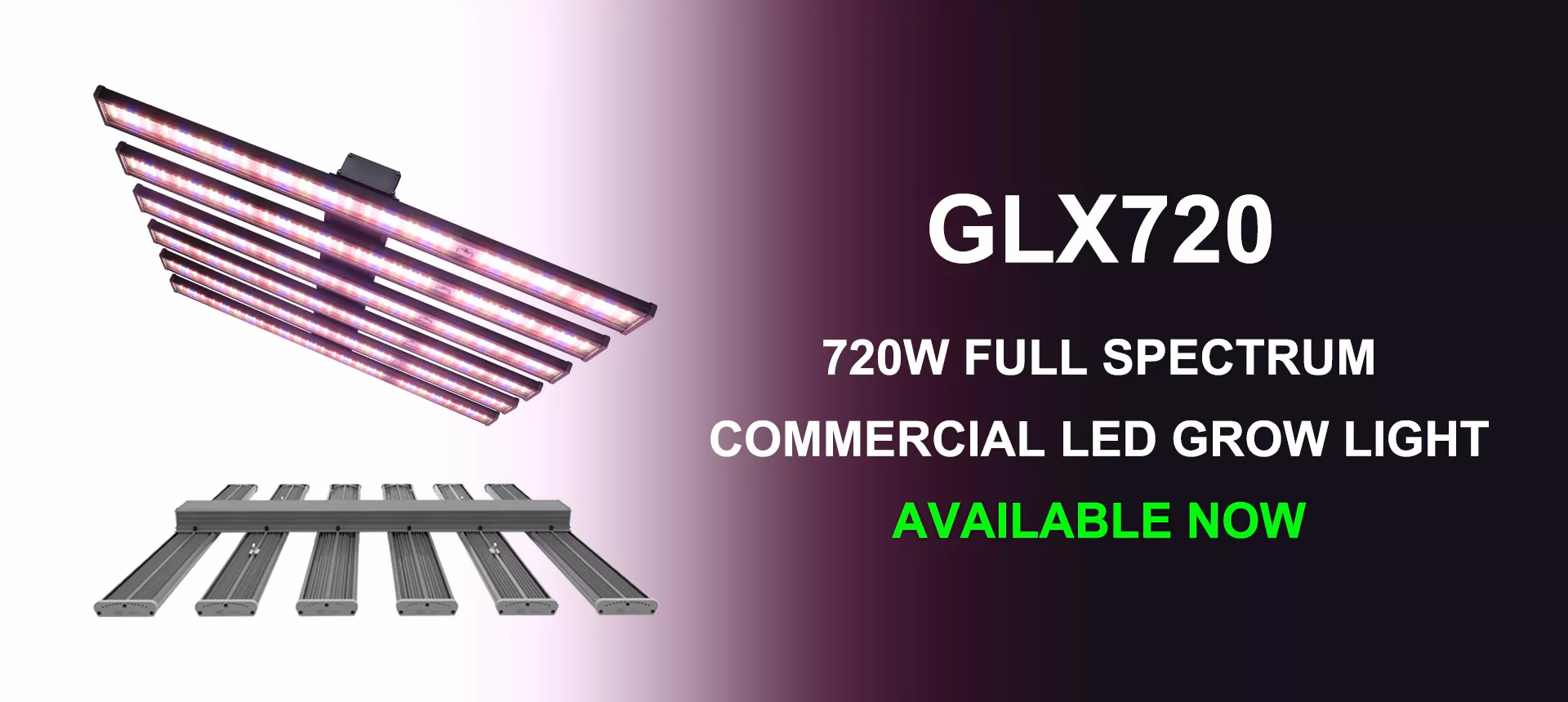 VANQ LED grow lights featuring best components such as from Bridgelux, Epileds, and high efficacy Samsung LEDs with extra blue 450nm, deep red 660nm, and infrared 730nm lights produce consistent spectrum and uniform PPFD output.
Coverage estimates
Whether you are an experienced grower or new to the indoor farming landscape, a LED grow light with coverage estimates can make your job easier in a big way. Being a leading LED light manufacturer, VANQ takes pride in providing indoor growers with precise coverage estimates. The use of state-of-the-art technology enables us to accurately build our lights' features and then provide detailed descriptions to our product users.
With GLTW040 - a 40W IP65 waterproof LED grow light, you can get a unique rectangular footprint. It comes with light utility up to 95% and uniform distribution of PPFD within the footprint.
Greater spectrum flexibility and uniform PPFD that features GLTW040 can immensely assist medical marijuana indoor growers to reap the highest quality and the largest yield.
Lowering the height LED grow lights can reduce the lighting footprint, at a height of 10 inches medical marijuana growers can get a rectangular lighting footprint of 1.5ft x 4ft, with an average PPFD of 80 umol/m2/s with light utilization up to 95% within the lighting footprint.
Light intensity estimates
No matter how experienced you are, it is impossible to get top produce without figuring out the light requirements of your marijuana plants. During the vegetative stage, deep blue 460nm and hyper red 660nm spectrum can result in the best results in terms of quality and yield of your crop.
Use VANQ's custom spectrum control and provide your plants with tailor-made lighting solutions. By placing light fixtures 8 inches (20cm) apart and hanging 25cm high from the canopy, you can get average PPFD 140 umol/m2/s. In case, you have specific indoor marijuana cultivation requirements you can reach out to us and our exceptional customer service would provide you all the help.
Greenhouse medical marijuana cultivation
Greenhouse cultivation covers the middle ground between indoor and outdoor cultivation. Greenhouse forms the second major method of growing medical marijuana. Under this method, sun-grown cannabis is produced with light deprivation. The farmers block out the sun to create light deprivation which tricks plants into flowering faster.
Greenhouse cannabis growth brings a multitude of advantages to the farmers. Sunlight helps to develop and accomplish a full and natural terpene profile. Sun-grown marijuana takes a lot less energy than all the grow lights used to support indoor farming.
Supplemental lighting systems
Since greenhouse farmers are vulnerable to weather variations therefore, they need additional support to meet the grow requirements of their plants. On a cloudy summer day or during the winter, greenhouse growers might face with low solar radiation. To ward off any harmful impact on the cannabis plants, greenhouse growers can use supplemental lighting systems.
Being a customer-centric company VANQ's manufacturing processes are greatly inspired by our end-user's marijuana farming needs. To supplement the low solar radiation, VANQ has designed a purpose-built greenhouse top supplemental lighting system. It offers greater spectrum control and uniform PPFD.
VANQ's GLFI640/320 640W/320W LED grow lights are specifically designed to meet the supplemental lighting requirements of greenhouse growers. The greater customization that is designed to work with low solar radiation helps marijuana growers to improve product quality, keep production on schedule, and shorten the growth cycle.
Coming with 0-10v dimmer, VANQ's greenhouse supplemental lights allow cannabis growers to set the light output to meet the required PPFD level under varying solar radiation conditions.
Less heat generation
Since LED grow lights operate under solar radiation in greenhouse farming, therefore, specific designing that actively dissipates heat out of the LED light fixtures is required. Contrary to common knowledge, some poor LED light fixtures end up with heat building up that results in a shorter lifespan of the lights as well as poor quality of the crop.
VANQ's designing team invest greater efforts to find ways that don't allow heat buildup inside the light fixtures. The designing improvements actively dissipate heat and don't let it accumulate inside the enclosed fixtures.
Under moderate solar radiation conditions, VANQ's GLIC650 650W full spectrum marijuana LED Grow Light can be a perfect light fixture to supplement the lower solar radiation. It comes with 3 active cooling fans and 5 UL-listed Meanwell drivers. By continuously repelling heat outside the enclosed fixture, this LED grow light produces uninterrupted and consistent light output.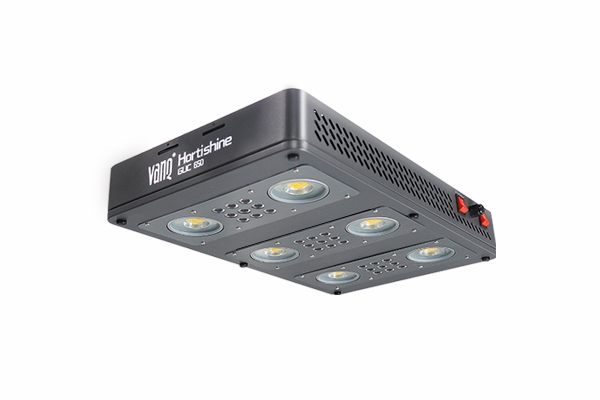 Final thoughts
Whether you opt for indoor or greenhouse medical marijuana growing, VANQ's tailor-made lighting systems provide the best solutions to address your farm's illumination needs. VANQ's cutting-edge technology and use of the best component ensures the best LED grow lights specific to your plants' life cycle needs. Over the years, we have transformed into an innovative company that uses creativity to transform ideas into lighting solutions.