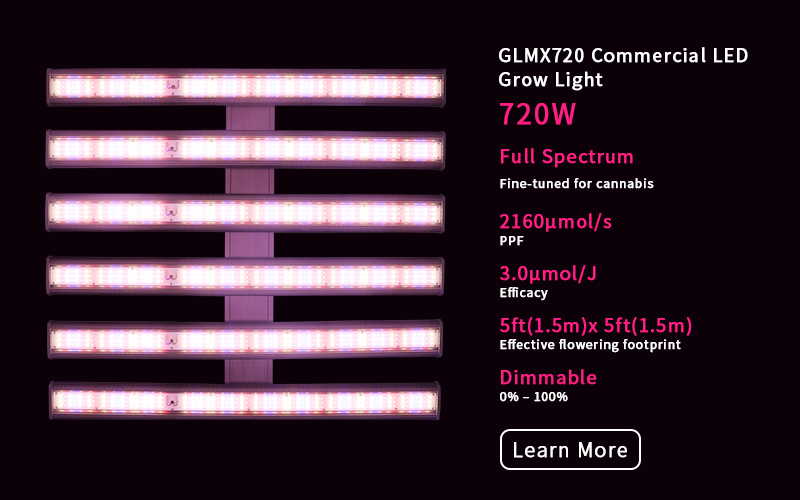 Since 2009, VANQ has emerged as a leading commercial LED grow lights manufacturer continuously shaping LED grow lights arena. Incorporating years of laboratory research and professional customers' knowledge, we are manufacturing high power, optimum yield, and truly full-spectrum LED grow lights.
By transforming the creative ideas into innovative products, VANQ is at the forefront of manufacturing commercial LED that better meets indoor and greenhouse plants' growing needs.
Exploring artificial lighting and plant growth requirements, we conducted hundreds of tests in a dedicated state-of-the-art agronomy laboratory. The valuable firsthand data we produced along with feedback of hundreds of global professional grower partners, VANQ is manufacturing products with premium quality and unmatched performance.
Leading the innovation
Our quest to develop modern lighting solutions using cutting-edge technology has enabled us to lead the innovation wave that is revolutionizing the indoor and greenhouse horticulture landscape.
We take pride in being a research-driven commercial LED grow light manufacturer, however, the research team at VANQ always keen to learn from the experiences of professional growers.
Using a scientific lens to watch and analyze Commercial greenhouse growers' requirements, we are strengthening and extending our tradition of relentless innovation. Whether you are an indoor or greenhouse grower, you can take your cultivation to a new level by using our customizable grow light solutions.
Through Sheer knowledge, unprecedented craftsmanship, and superior technology, VANQ is leading the innovation that is playing a critical role in promoting commercial indoor and greenhouse cultivation.
From design to material, we ensure every commercial grow light we produce exceeds our customers' expectations. Our ability to develop products around the actual needs of commercial indoor as well as greenhouse growers, we are constantly outperforming the competition.
Our innovative LED grow lights are highly popular among commercial growers, the following list of our products distinctive features establish us as a leading commercial manufacturer of artificial cultivation lights.
Purpose-built products
Building on 10 + years' experience of LED test grows and field data, VANQ has developed purpose-built lighting solutions to meet varying needs of commercial indoor and greenhouse cultivators.
Whether you are a cannabis cultivator, vertical farmer, or greenhouse grower, there is a product that is designed and manufactured to perfectly meet your plants' needs.
For example, the GLMX720 720W waterproof full-spectrum cannabis LED grow light is tailor-made for all growth cycles from vegetative to flowering with a uniform spectral distribution and a high efficacy up to 3.0μmol.
Bringing our passion for innovation and field knowledge of cannabis growth together, VANQ has lighting solutions from cannabis cuttings to flowering. Higher PPFD output, less electricity consumption, low heat generation, and adjustable spectrum are a few of the distinctive features of our tailor-made cannabis grow light solutions.
We take pride in serving a range of indoor and greenhouse growers plants' lighting needs by developing purpose-built highly innovative products. It is a matter of delight; our commercial LED grow lights are helping hundreds of professional cultivators to achieve high quality and yield crops across the globe.
Data-driven assistance to professional cultivators
Being a customer-centric company, VANQ crunching all its data to produce tips, tricks, and estimates that can help professional growers to achieve high quality and yield produce.
Understanding indoor cannabis plants light requirements, VANQ not only provides an adjustable spectrum but also with data-based proven light recipes for every growth stage.
From PPFD output to electricity consumption, we continuously monitor and measure the performance of our products. We not only use this data to unleash product improvements but also, share it with our customers. Including PPFD output, light intensity, and footprint dimensions, every information we share is precise and accurate.
VANQ's 40W IP65 waterproof LED grow light - GLTW040 – produces a rectangular light footprint with light utility up to 95%.
By calculating the LED grow light's hanging height and size of the footprint, we greatly assist professional indoor as well as greenhouse growers to set up their lighting systems. At a height of 10 inches, GLTW04 produces a rectangular lighting footprint of 1.5ft x 4ft, with an average PPFD of 80 umol/m2/s and light utilization up to 95% within the footprint.
Product tailored lighting solutions
As a leading commercial manufacturer of LED grow lights, VANQ continuously directs its entrepreneurial zeal to find lighting solutions by exactly matching what it requires to get high quality and yield.
GLMX720 720W full spectrum cannabis LED grow light is an ideal light for commercial farmers. With tailor-made 4000K white LEDs as well as a spectral emission reaching PAR 400 – 700nm along with extra 450nm blue, 660nm deep red and 730nm infrared LEDs, it is a fine-tuned broad-spectrum light designed for all growth stages.
The exceptional spectral balance and uniform PPF of 2160 μmol/s with efficacy up to 3.0 μmol/J, ensures GLMX720W to meet all cannabis plants lighting requirements from propagation to flowering.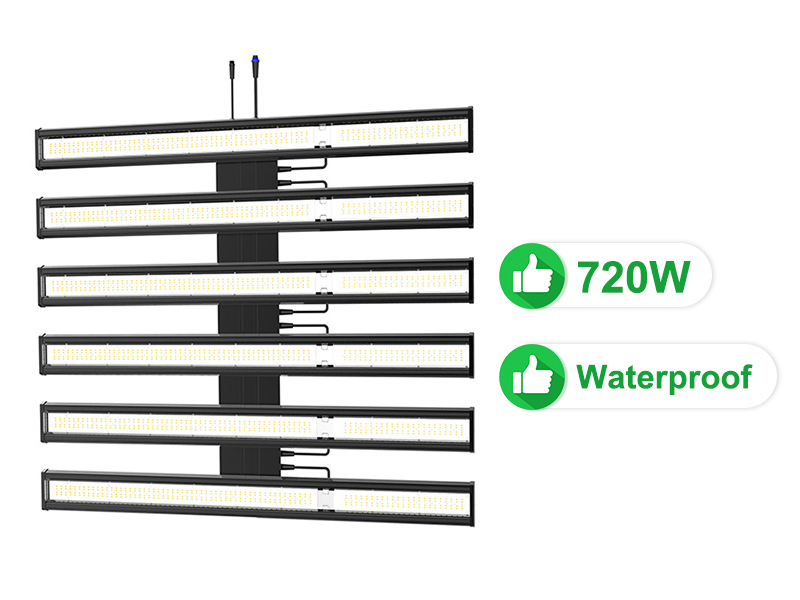 The flexibility to connect various light fixtures enables developing daisy chain networks. On top of this, using a VD-100 dimming controller, cannabis commercial growers can manipulate 50 light fixtures in a daisy network.
Similarly, GLTW050 50W Waterproof LED Grow Light Bar offers optimal lighting solutions to the professional leafy green growers. With a patented rectangular spectrum specifically designed to deliver the uniform spectral output and even PPFD distribution, GLTW050 50W offers commercial leafy green growers a perfect light solution.
Thanks to its unique optical design, GLTW050 50W delivers a rectangular footprint about 2ft (0.6m) x 4ft (1.2m) with light utilization up to 95% at a hanging height of 12in (30cm). Coming with a fine-tuned spectrum, this light fixture focuses on vegetative and propagation growth phases. It is all set to enhance biomass as well as promote stomatal opening in short, compact plants.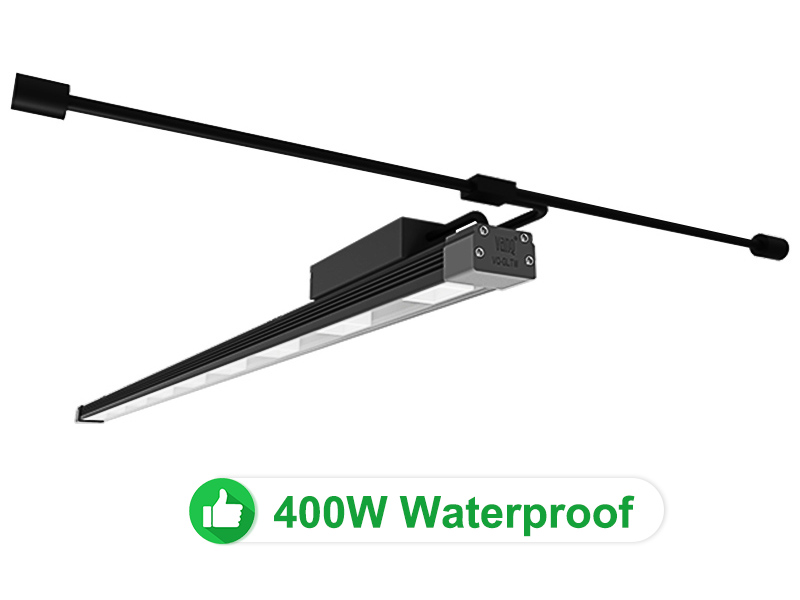 Innovative product solutions
VANQ being a customer-centric commercial manufacturer of LED grow lights, invariably, strives to develop innovative product solutions making use of advances in information technology, design, and materials. Using technology to find optimum lighting solutions is an important cornerstone of our corporate strategy.
Automation and extended control are distinctive features of our products, and they greatly assist indoor and greenhouse growers to achieve exceptional crop quality and yield.
iGrow Spectrum Programming Controller is a wireless grow light controller that allows indoor and greenhouse cultivators to control the light intensity, spectrum, and photoperiod of their lighting system. The unprecedented automation to run pre-designed growth schedules offers exceptional ease to manage your lighting system. One iGrow controller can effectively control 50 GLIC650D fixtures within a range of 100 meters.
GLIC650D 650W Wireless Control Spectrum-Programmable Smart COB LED Grow Light comes with igrow control system. With a total power of 650W, GLIC650D consists of 6 pcs of 100W COBs and 27 pcs of high-power LEDs.
The four-channel spectral control with a wireless controller ensures plants at every stage gets perfect light with enhanced convenience. For example, commercial growers can use heavy blue light treatment in the flowering stage to achieve the best terpenes accumulation.
For up to 140 consecutive days, professional cannabis growers can program up to 23 times of hourly spectrum transitions within a single day schedule.
Use this flexible control technology using our recommended light ratios for each stage and achieve high quality and exceptional crop yield.
Greater customer outreach
No manufacturing firm can introduce innovative products without listening to its customers and understanding their needs. VANQ places customers at the heart of its every operation, and it always lookout to find ways to connect with the customers.
Our user-friendly website not only offers a great deal of information on indoor cultivation, but it also lets our customers contact us in a number of ways.
Now you can call us, send an email, or if you want to contact instantly you can send us a message using an instant chat option.
For customers who want to know further or have any questions about any of our products, can send their queries using a contact form provided below each product page.
We always looking forward to our customers' feedback, questions, and suggestions. VANQ's in-house capabilities and knowledge enable us to transform any ideas into useful lighting products.
In other words, we listen keenly to our customers' voice and incorporate them into the products through our manufacturing processes.
No wonder, our products are the first choice of professional and commercial growers all over the world.
Data sharing
VANQ extends unprecedented support to professional and commercial indoor and greenhouse growers by sharing essential data required to make the best use of our products and achieve high quality and yield crops.
Our data is produced over the course of ten years as a result of internal testing or interaction with growers.
We thoroughly elaborate on our products by listing their features, specifications, and dimensions. Where it is essential, we elaborate product drawings and chart to case light on a LEG grow light.
Our customers appreciate the way we explain and demonstrate different lighting recipes customized to each growth stage. From spectrum graphs to PPFD charts, we take great care to provide our customers with technical and complex details in an easy to understand manner.
Through PPFD charts, we elaborate hanging height of LED light fixture and PPFD intensity in a given footprint. The details can save commercial growers from wasting time on finding PPFD intensity through trial and error method.
Such information ensures professional cultivators make the best use of the LED growth light fixtures to get a better crop and save their resources.